Oil Change Service at Destination Ford of Dumas
Routine oil changes are critical for the overall health and performance of your Ford's engine. Going too long in between oil change services can allow old, dirty, and contaminated oil to circulate throughout your engine, potentially causing engine wear and bringing down engine output and efficiency. When you are in need of your next oil change in Dumas, TX, come to Destination Ford of Dumas. Our Ford service center offers a full-service menu, including synthetic oil changes, semi-synthetic oil changes, diesel oil changes, and more. Please continue reading this page to learn more about engine oil and the benefits of choosing Destination Ford of Dumas for your next service, and then head over to our online scheduling page for quick and easy service scheduling.
Certified Oil Changes Services We Offer:
Full Synthetic - Fully synthetic engine oil lasts considerably longer than conventional oil; it also keeps your engine cleaner and flows better in both hot and cold conditions.
Conventional - Made from refined crude oil, conventional engine oil keeps your engine's moving metal components lubricated so that they will not be damaged by friction.
Semi-Synthetic - This special blend of conventional and synthetic oil can provide some of the benefits of both: it's less expensive than full synthetic oil, but keeps your engine cleaner than conventional.
Diesel - If your vehicle has a diesel engine, it will require a special oil that has a different viscosity than oil meant for gas engines, as well as additional anti-wear additives.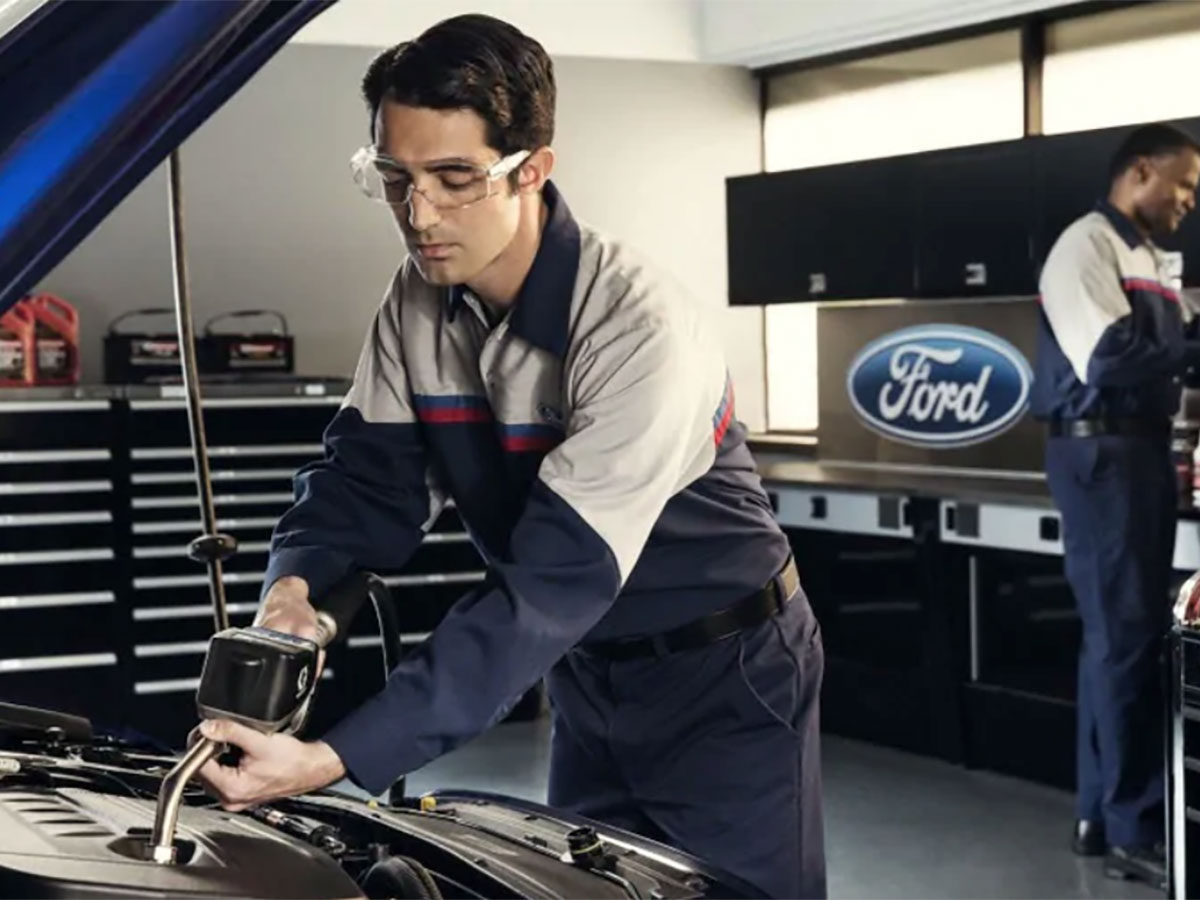 Ford Oil Change Services in Dumas, TX at Destination Ford of Dumas
After your oil has been in your engine for an extended period of time, it will begin to collect dirt, metal shavings, and other contaminants. Regular oil changes are so essential for providing your engine with clean oil to operate with. At Destination Ford of Dumas, we provide Ford owners in Dumas, TX, with certified Ford oil change services. We offer synthetic oil changes, semi-synthetic oil changes, diesel oil changes, and high mileage oil changes. The correct oil change for you will depend on your specific vehicle as well as your service preferences. For gasoline vehicle drivers looking for the best engine performance and longest service interval, a synthetic oil change would be a great choice. Drivers of diesel trucks, or older vehicles with more than 100,000 miles on them, will benefit from our diesel oil changes and high mileage oil changes, respectively. The exact oil change service interval will also vary depending on your specific vehicle and the oil type that you choose. Whichever oil change service you choose, you can rest assured that the genuine OEM engine oil and engine filters that we use for service at Destination Ford of Dumas will bring out the best in your Ford's engine.
Scheduled Certified Ford Oil Changes at Destination Ford of Dumas
Please visit our online scheduling page or contact our service department by phone to schedule your next oil change at Destination Ford of Dumas, near Stinnett, Hartley, Cactus, Masterson, and Sunray, TX. While on our website, make your way over to our service specials page to find savings opportunities on oil changes and other certified Ford services. For oil change services that you can depend on from certified Ford service technicians, come see us at Destination Ford of Dumas.